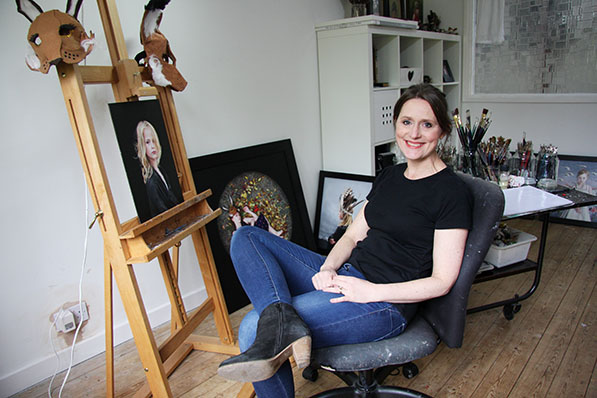 I was born in Maracaibo, Venezuela and moved to England when I was five. My great grandfather was the highly respected sculptor, Charles J Allen. I would look closely at his bronzes and wonder how it would feel to create something so intricate and beautiful.
As a child I showed a talent for drawing. At first I drew pop stars to impress my friends and later on, I scoured old copies of the National Geographic to find interesting faces to draw.
I have always been fascinated by science and studied medicine. However, my passion for drawing never dwindled. My walls were covered with detailed anatomical drawings. I worked as a GP until 2005.
After leaving my medical career, I taught myself how to paint in oils. It was like a duck going to water. For me, the process feels natural and instinctive and continues to evolve.
My work often features children, including my two daughters. I like to escape into their world and create paintings that aim to inspire the next generation. When I was young I loved the feeling of being lost in the wilderness and this has a big influence on my work. I like a sense of intrigue, a bit like the first page in a book or the initial scene of a movie.
Exhibitions
2017 "A rural Idyll" Katy Sullivan and Annie Ovenden, Catto Gallery, Hampstead, London
http://cattogallery.co.uk/artists/katy-sullivan/exhibition-2017
2013 Drawn 2013, RWA, Bristol
2012 Holburne Portrait Prize, Bath
2011 Show me the Artists, Bedfordbury Gallery, London. Show me the Monet exhibition, Royal College of Art, London
2010 Holburne Portrait Prize, Bath
Bath Society of Artists open exhibition
2009 Encore exhibition, RWA, Bristol
Bath Society of Artists open exhibition. Winner of Public Choice prize
2008 Holburne Portrait Prize, Bath. Winner of Public Choice award.
2006 Through the Lens exhibition, RWA, Bristol
Press
2017 Poets and Artists - Interview - July Issue
2011 Show me the Monet – Series 1, episode 7, BBC2
Education
1995 MB ChB Bristol University Medical School